It's an honor to be nominated, especially by your peers, and even better to win. So who will take home the gold naked man statue at Sunday's 21st Screen Actors Guild Awards (8 p.m. ET / 5 p.m. PT on TNT and TBS)? Will Modern Family continue to dominate? Will Boyhood shut the door on the Oscar race? Check out our predictions and tell us yours.
Modern Family, Tatiana Maslany lead SAG nominations
TELEVISION
Drama Ensemble
Will win: Downton Abbey
The Crawley crew pulled off a shocker here two years ago before ceding to the Breaking Bad farewell juggernaut last year, and there's no reason to think they can't reclaim the throne. It's got a huge ensemble, voters love it (Maggie Smith surprised in drama actress last year), and when the SAGs love something, they really love it (see: Alec Baldwin's seven straight wins). It would be the sixth show to win two drama ensemble statuettes.
Watch out for: House of Cards
The drama has the prestige factor and is a newbie in this race, having only received one nomination last year for Kevin Spacey.
Comedy Ensemble
Will win: Orange Is the New Black
After getting zero nods last year competing in drama, Orange should snatch a victory here. The show features not only a great ensemble, but ensemble work in the truest sense. It also has the largest nominated cast (40 people) of the TV and film nominees, and the SAGs have frequently equated "biggest" with "best," which of course is not mutually exclusive.
Watch out for: Modern Family
Will anyone be surprised if it won for an unprecedented fifth straight year? That's what we thought.
Drama Actor
Will win: Matthew McConaughey, True Detective
After losses at the Emmys and Golden Globes, this is McConaughey's last shot to win something for bringing Rust Cohle to life. The True Detective buzz is a distant memory — not to mention, those aforementioned defeats might mean people are tired of him hitting the podium after his Oscar run last year — but the SAGs are sometimes (OK, a lot of the time) woefully behind the curve trying to keep up with the here and now.
Watch out for: Kevin Spacey, House of Cards
A SAG win is surely the next step in Spacey's revenge.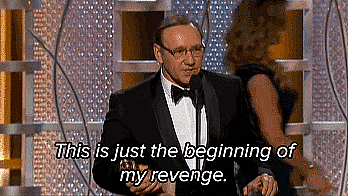 (via)
Drama Actress
Will win: Viola Davis, How to Get Away with Murder
Davis lost the Golden Globe to The Affair's Ruth Wilson, who's not nominated here, but she's looking good to take home her third SAG statuette. She's a highly respected, beloved (just look at the warm reaction the room gave her when she won for The Help) actor getting her moment headlining a TV show. Shondaland ladies have also fared well at the SAGs: Grey's Anatomy's Sandra Oh and Chandra Wilson won in back-to-back years.
Watch out for: Julianna Margulies, The Good Wife
A SAG favorite, the eight-time winner would become the all-time leader with her ninth win and fifth in this category. A vote for her would also be one for the CBS drama, which has not been nominated in the ensemble race in three years despite its creative renaissance last year.
SAG Awards surprises and snubs: Tatiana Maslany's finally in! But newbies are still (mostly) not
Comedy Actor
Will win: Ty Burrell, Modern Family
Burrell ended Baldwin's seven-year streak last year, and given the SAGs' love affair with ModFam and their notorious habitual voting patterns, Burrell is primed to repeat. He'd join Michael J. Fox, John Lithgow and Tony Shalhoub as two-time winners.
Watch out for: Jim Parsons, The Big Bang Theory
The SAGs could play catch-up and give the four-time Emmy winner the only major prize missing from his trophy case.
Comedy Actress
Will win: Julia Louis-Dreyfus, Veep
JLD ought to snag her second straight SAG for her brilliant VPOTUS-turned-POTUS, which would tie her with Tina Fey with four wins in the category.
Watch out for: Uzo Aduba, Orange Is the New Black
Aduba already did the hard part, cracking the shortlist that combines lead and supporting performances. And as Megan Mullally's and Sean Hayes' multiple wins have proven, the SAGs love crazy (no pun intended) scene-stealers.

TV Movie/Miniseries Actor
Will win: Billy Bob Thornton, Fargo
You betcha Thornton will walk away with a win for his deliciously insidious Lorne Malvo, especially with main would-be rival McConaughey competing in drama.
Watch out for: Mark Ruffalo, The Normal Heart
Voters might throw Ruffalo or Benedict Cumberbatch (Sherlock) a bone here since they're most likely not winning on the film side. We'll tip the former: a well-liked, longtime actor who also shepherded the searing Larry Kramer play onto the small screen.
TV Movie/Miniseries Actress
Will win: Frances McDormand, Olive Kitteridge
Maggie Gyllenhaal (The Honourable Woman) upset at the Globes, but McDormand's bracing performance, coupled with her status, should push her over the line. If nothing else, we just hope she has a better time.

(via)
Watch out for: Cicely Tyson, The Trip to Bountiful
No awards show is more reverential to the elder statesmen and women of the biz than the SAGs. (Remember Helen Mirren's shocking win here last year?) This is Tyson's third nod in this category and fifth overall (she won as part of The Help ensemble). Also keep an eye out for Julia Roberts (The Normal Heart), who was stunned at the Emmys by Kathy Bates and was snubbed for a nod by the Globes.
Birdman, Grand Budapest Hotel lead Oscar nominations
FILM
Ensemble
Will win: Birdman
The electric performances notwithstanding, Birdman's built-in appeal (it's about acting and actors!) will resonate with voters. There's not a great correlation between this award and the Best Picture Oscar winners - they've agreed nine of the 19 times since the SAG ensemble award came into existence - since this is about performances, not the films themselves (the Producers Guild Award is the guild Best Picture equivalent). But if Boyhood, with its four nominated ensemble cast members, takes this, consider the Oscar race done and dusted.
Watch out for: The Grand Budapest Hotel
The Wes Anderson flick has had remarkable industry support (it got nine Oscar nominations) and like Orange, it has the largest cast — with lots of big names — of the nominees and makes the best use of everyone.
Lead Actor
Will win: Michael Keaton, Birdman
Has there ever been a better fusion of actor and role? Keaton's comeback narrative is not lost on anyone, and the actor struggles and fears he so acutely realizes in Riggan Thomson will ring true for many in the guild.
Watch out for: Eddie Redmayne, The Theory of Everything
Redmayne's transfixing transformation into Stephen Hawking will have its share of devout aficionados. Plus: The film's unexpected ensemble nomination shows deep support.

Lead Actress
Will win: Julianne Moore, Still Alice
Moore will continue her safe passage to the Dolby Theatre stage with her heartbreaking portrait of a woman with early onset Alzheimer's. While she has a SAG at home for Game Change, Moore has never won one for film, going 0-9 between her individual and ensemble nominations.
Watch out for: Reese Witherspoon, Wild
Had Jennifer Aniston gotten an Oscar nomination, she would've been a major dark horse with her populist appeal (and that campaign), but alas, no non-Oscar nominee has ever won this category. So we'll go with her Friends sister Witherspoon, who led a beautifully meditative one-woman show.
Oscar surprises and snubs: Sniper hits the mark, everything is not awesome for Lego, Selma and Aniston
Supporting Actor
Will win: J.K. Simmons, Whiplash
The Simmons steamroll will roll on, not just because of his perfect perfectionist tormenter, but it's hard to resist voting for a veteran character actor, who's worked with anyone and everyone, getting his day in the sun.
Watch out for: Edward Norton, Birdman
Norton's stinging satire of his own difficult method actor reputation is just as fantastic as Keaton's wink-wink-nudge-nudge and 10 times as funny (lest we forget his immortal line, "Popularity is the slutty little cousin of prestige"). Believe it or not, Norton had never been nominated for a SAG until this year (he has three, including the ensemble nods for Birdman and Grand Budapest).

Supporting Actress
Will win: Patricia Arquette, Boyhood
Arquette's moving, vanity-free performance (if anyone will admire fearlessly aging onscreen for 12 years, it's actors) ought to net the actress her umpteenth trophy this season.
Watch out for: Emma Stone, Birdman
Hard to imagine anyone dethroning Arquette, who's been in pole position for months, but Stone's bitter, vulnerable turn is the type of breakout performance that will kick-start the next phase of her career.
Who do you think will win?
The SAG Awards air Sunday at 8 p.m. ET / 5 p.m. PT on TNT and TBS.