It's the battle of the biopics!
Last fall, Lifetimes premiered Lindsay Lohan's "comeback" film Liz & Dick, chronicling Elizabeth Taylor's romance with Richard Burton. Now BBC has responded with its own version of the couple's tumultuous relationship, Burton and Taylor. So is the latest take on the infamous couple actually any better than the Lifetime bomb? Let's take a look:
Lindsay Lohan and Elizabeth Taylor: How similar are they really?
Lindsay Lohan vs. Helena Bonham Carter
It's almost cruel to try and compare Lindsay Lohan and Helena Bonham Carter. LiLo lacked any semblance of screen presence, preferring to sleepwalk her way through her lines, randomly slipping in and out of any attempt to capture Taylor's iconic voice. It wasn't until the film reached Burton's death in 1984 that Lohan, then 26, finally seemed somewhat natural impersonating the then-52-year-old star.
Bonham Carter, however, gives an excellent performance that never deviates into a poor SNL impression. She is able to capture the vulnerability of the actress, but the strength and playfulness were gone. Instead, Bonham Carter's Taylor feels like a manic pixie dream girl past her prime, sometimes veering on extremely delusional, as though Bonham Carter is about to go full Bellatrix LeStrange at any moment. That being said, Burton and Taylor is largely told from Burton's perspective at a time when Taylor's substance abuse was rampant and he was tiring of her antics. So while the BBC Taylor is fairly close to the reflection given in Burton's journals, the film never allows Bonham Carter to become more than poor Richard's lonely, pitiable ex, which is so not the Liz Taylor we know and love.
Take a look back on Elizabeth Taylor's biggest scandals
Grant Bowler vs. Dominic West
Grant Bowler came into this Dick battle at a disadvantage. Not only is his Richard Burton the Lifetime version, but he's also up against Jimmy McNulty, for goodness sake! But Bowler holds his own and is easily the best (non-ironic) part of Liz & Dick. Some of his lines are pure camp, but the film really makes an effort to capture the lost potential of Burton who, seduced by celebrity and overshadowed by Taylor, never became to be the great star he could have been. It's clear that Bowler also worked hard to compensate for Lohan's absence of charisma by providing ample on-screen passion on his end to at least create some semblance of a romance (though there are times LiLo's so lifeless onscreen it feels like a remake of Lars and the Real Girl).
It's in the romance department that Bowler actually outshines Dominic West. The Wire star never seems to make Burton's addiction to Taylor feel real. There are moments of tenderness between the couple, but the passion is lacking. West's Burton feels more like an affable antihero, who unwittingly tortures his ex and selfishly keeps her around for comfort, rather than love. But while West restrains himself from indulging in Burton's more lavish qualities, save a few campy one-liners (mainly about Taylor's breasts), he grounds the character in an emotional realism that Bowler's Burton lacked.
Take a look back on Lindsay Lohan's biggest scandals
The Actual Plot
Liz & Dick was a crash course in Taylor and Burton's romance, covering everything from the day they met through both marriages and divorces, Burton's death and even beyond. In sporadic and bizarre cutaways, we see the pair in some sort of ghost couple's therapy session, with Taylor and Burton reflecting on their lives together. However, the film does an adequate job capturing the playful abuse between Taylor and Burton that fueled so many headlines, while injecting just enough heart into their caustic banter that the attraction is understandable (not necessarily believable, but at least vaguely understandable).
Burton and Taylor takes a very different approach to the couple and it suffers for it. The film, which assums viewers already have a basic knowledge of the couple, is a very focused look at Taylor and Burton's final reunion for a production of Private Lives. Taylor engineers the play in an attempt to rekindle their relationship, but her plan backfires when a sober Burton takes a hiatus to marry his young girlfriend. It's a lesser known chapter of the infamous couple's lives, when Taylor and Burton were both fading stars struggling to stay relevant, but in real life, the period was filled with the same flamboyance as any other. There is the moment she seeks revenge at Burton by bringing her pet parrot onstage mid-performance or the way she hams it up for the audience by ad-libbing. These occurrences are touched upon in the film, but done so in a way that dulls the drama and portrays Taylor as a pathetic shell of a woman. And while there's no doubt Taylor didn't handle Burton's new marriage very well, she was also Liz effin' Taylor. In real life, she put on a brave face and reportedly threw the newlyweds an engagement party, something that could have added depth and strength to the BBC Taylor. Instead, the film glossed over this and any other campy aspects of their relationship, trying to take a far too serious look at one of the most over-the-top couples of all time.
Lindsay Lohan and more child stars gone bad
The Bells and Whistles
The writing in Liz & Dick is shockingly bad coming from Temple Grandin screenwriter Christopher Monger, but schadenfreude compensates for this and many of the film's biggest faults. The cameos only add to the Showgirls­-esque hilarity, with Creed from The Office and Steve from Sex and the City making odd, unexplainable appearances. But while so much of Liz & Dick falls under the so-bad-it's-maybe-good category, there is one thing the film undoubtedly nailed: the outfits! With 66 costume changes in only an 88-minute film, Liz & Dick is a fashion feast.
Sadly, Burton and Taylor's only standout visual involves West wearing a full-length mink coat dancing to Donna Summer's "Love to Love You Baby." (Which really is fabulous). Other than that, there's really no cherry on top of the sundae extravagance. However, this isn't too much of an issue for the film since West's and Bonham Carter's performances, despite how much they do or don't reflect Taylor and Burton, are strong and engaging enough to carry the film on their own.
So which is better?
That depends purely on what you're looking for. Neither film captures the intense romance of Taylor and  Burton, but neither are torturous to watch either. And truth be told, if Burton and Taylor weren't trying to be about Burton and Taylor, it'd probably be a much better (albeit a little dull) film. But as a biopic, the film fails to deliver the passion the famous couple is known for. Liz & Dick, on the other hand, is a hot mess in every way. Yet it's memorable, outlandish and does far better justice to Taylor and Burton's memory than a dry British film that one will forget within minutes of watching, because if there is one thing Liz Taylor was not, it's forgettable.
Of course, if Burton were alive today, he'd instruct you to disregard anything I say. "Critics deserve nothing but our pity. To be so close to art and yet to contribute absolutely nothing whatsoever towards it. It's like being eunuchs at an orgy," Burton instructs Taylor in the BBC film.'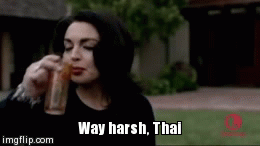 Burton and Taylor airs Wednesday at 9/8c on BBC America.